Plastic formwork products + plastic concrete formwork
formwork polymer systems Replacement of Steel Concrete Molds
plastic formwork Concrete Molds
Plastic Formwork: Pros and Cons, Materials Used, and Advantages over Metal Formwork
Plastic formwork is a relatively new building technology that is gaining attention in the construction industry. It involves using plastic sheets or boards to form concrete walls, slabs, stairs, and more. In this document, we'll explore some of the key aspects of plastic formwork, including its materials, benefits, and drawbacks.
Definition of concrete polymer plastic formwork
Concrete polymer plastic formwork is a popular alternative to traditional formwork made of wood, steel, or aluminum. It is lightweight, durable, and easy to handle, making it ideal for use in construction projects where speed and efficiency are essential. The use of polymer in the plastic formwork provides additional strength and durability to the formwork, allowing it to withstand the pressure of the wet concrete without bending or warping.

Material of plastic concrete  formwork.
Plastic formwork is polymer from ABS or PP . It is the lightest system among all other material formwork systems.
Materials Used in Plastic Formwork
The material used to make plastic concrete molds can vary, but it is typically a type of thermoplastic polymer. Some common materials used for making plastic concrete molds include polypropylene, and ABS (Acrylonitrile Butadiene Styrene).
Plastic formwork Polypropylene (PP)
Polypropylene is a popular choice for making plastic concrete molds because it is lightweight, durable, and has good chemical resistance. It can also be easily molded into complex shapes, making it suitable for creating intricate concrete forms.

Lightweight, low cost, recyclable
Plastic formwork ABS
ABS is a thermoplastic polymer that is commonly used for making plastic parts and components. It is known for its toughness, impact resistance, and dimensional stability, which makes it suitable for use in concrete molds that need to withstand the pressure of wet concrete.
Heat resistance, toughness, abrasion resistance
Overall, the material used to make plastic concrete molds should be able to withstand the pressure of wet concrete without bending or warping, and it should be easy to handle and reusable. The choice of material will depend on the specific requirements of the project and the desired properties of the mold.
Quality of Plastic Formwork vs Metal Formwork
While metal formwork has traditionally been used in construction projects, plastic formwork is becoming increasingly popular due to its many benefits. In terms of quality, plastic formwork can be just as effective as metal formwork, but at a lower cost.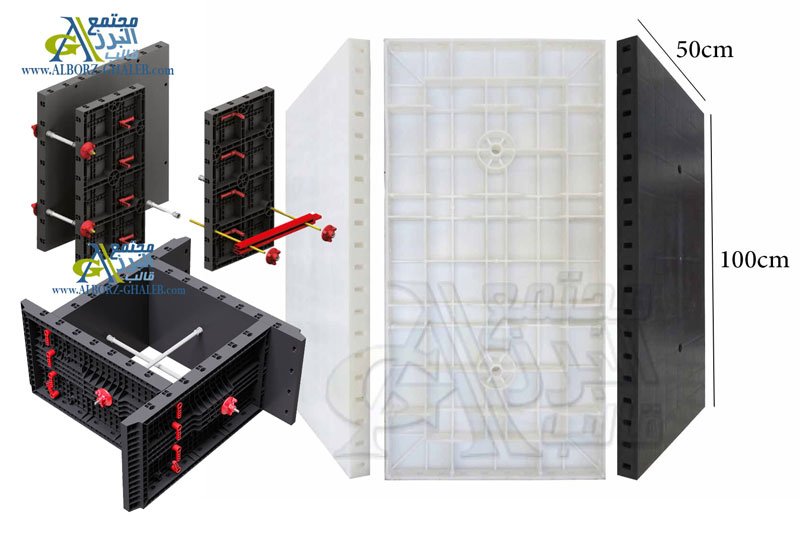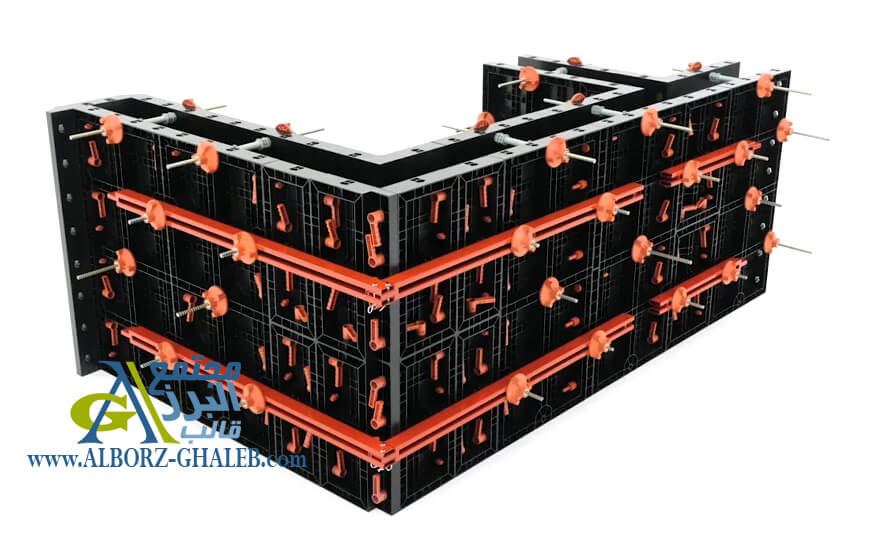 Production of all kinds of concrete molds in Alborz-ghaleb Complex

Alborz-ghaleb Complex is one of the leading manufacturers of concrete molds in Iran. This complex offers a variety of products in the field of producing concrete molds, which include the following:
Modular metal concrete formwork
concrete formwork plastic systems
Mixed concrete mold
This collection is able to produce concrete molds with different shapes and dimensions such as rectangular, square, circular, etc. in a customized way. Also, this group uses quality materials to produce concrete molds to produce high quality and long lasting products.
Advantages of Plastic Formwork over Metal Formwork
Lightweight and Easy to Handle
Plastic formwork is much lighter than metal formwork, making it easier to transport, handle, and assemble on site.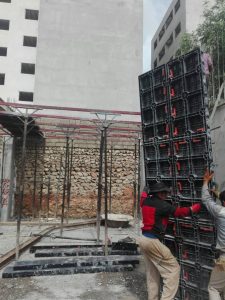 Superior Surface Finish
Plastic formwork can produce smooth and consistent surface finishes that require less time and cost for finishing work.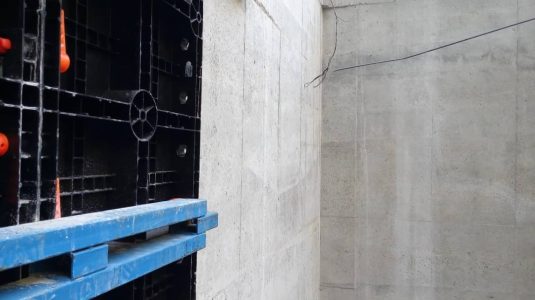 Reusable
Plastic formwork can be reused multiple times, reducing the amount of waste generated on construction sites.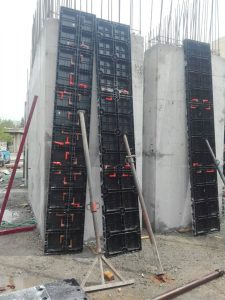 WALL PLASTIC FORMWORK
Wall Polymer formwork system is used for shearing walls, corner walls, basin, foundation, etc., Wall formwork system has panels of various sizes, fastened together by Nylon handles. Thanks to the several possible panel combinations, and special inner- and outer-corner elements, the possible wall thickness goes from 10 to 40 cm.
Wall plastic formwork is a type of formwork system used in construction to create vertical concrete structures such as walls, columns, and beams. It is made of lightweight and durable plastic materials that are designed to be easily assembled and disassembled, making it a popular choice for both small and large construction projects.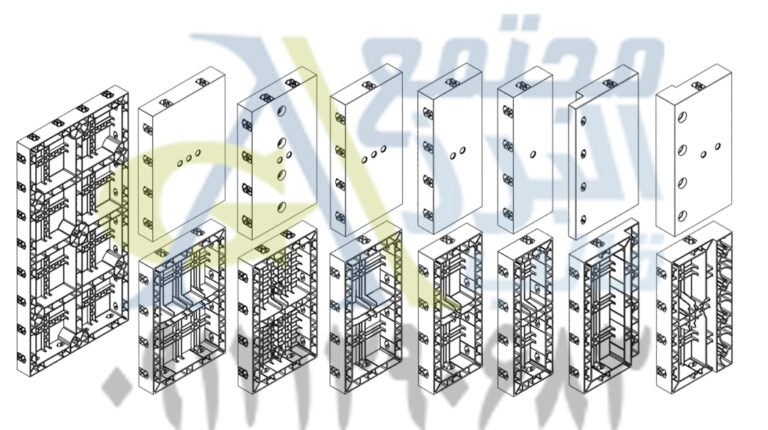 The advantages of using wall plastic formwork include:
1. Lightweight and easy to handle: The plastic materials used in the formwork are lightweight, making it easy to handle and move around the construction site.
2. Durable and reusable: Wall plastic formwork is designed to be durable and reusable, which makes it a cost-effective option for construction projects.
3. Quick and easy to assemble: The formwork can be assembled quickly and easily, which saves time and labor costs.
4. High-quality finish: The smooth surface of the plastic formwork creates a high-quality finish on the final concrete structure.
5. Environmentally friendly: Wall plastic formwork is made of recyclable materials, making it an environmentally friendly option for construction projects.
Overall, wall plastic formwork is a popular choice for construction projects due to its ease of use, durability, and cost-effectiveness.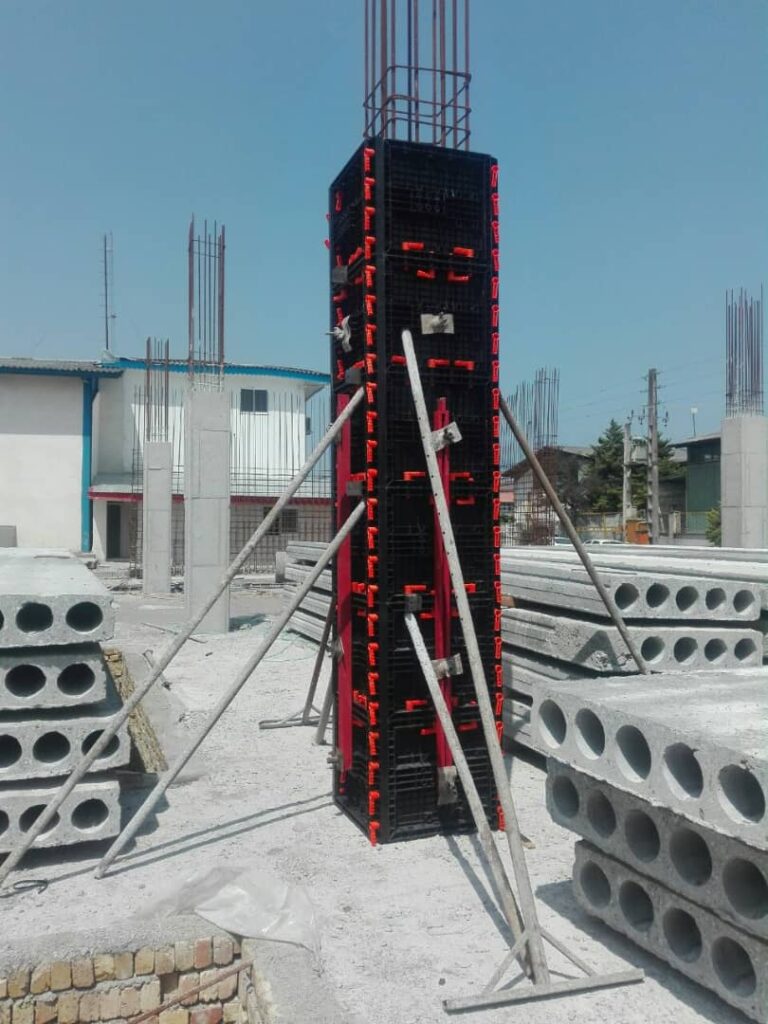 COLUMN PLASTIC FORMWORK
for square and rectangular concrete columns – is an adjustable, lightweight, modular plastic formwork system ideal for unique form configurations.
The Star plastic column formwork system for concrete structures is a universal solution for the forming of columns, pile caps, footings, plinths, and more.
Star panels are connected using the nylon handle with a simple 90 degree twist. Tie rods and anchor nuts are used to prevent bulging on larger width columns.
Form columns from 200 – 1000 mm wide in 105 different size combinations
Because the Star column formwork system is made from high-strength, lightweight ABS at less than 10 kg per piece, crane time can be drastically reduced.
Smart formworkers are experiencing a significant saving of time and resource costs to their jobs.
.ABS
| | | | | |
| --- | --- | --- | --- | --- |
| 1 | Ap 120 | flat panel | 60 120 | 11 KG |
| 2 | Ap 20 | flat panel | 60 20 | 2.1 KG |
| 3 | Ap 25 | flat panel | 60 25 | 2.5 KG |
| 4 | Ap 30 | flat panel | 60 30 | 3.1 KG |
| 5 | Ap 35 | flat panel | 60 35 | 3.6 KG |
| 6 | Ap 40 | flat panel | 60 40 | 4.1 KG |
| 7 | Ap IN | in | 60 in | 2.1 KG |
| 8 | Ap OUT | out | 60 out | 2.8 KG |
| 9 | HDL | — | — | — |
PP
| | | | | |
| --- | --- | --- | --- | --- |
| 1 | Pp 120 | flat panel | 60* 120 | 9.1 KG |
| 2 | Pp 20 | flat panel | 60* 20 | 1.8 KG |
| 3 | Pp 25 | flat panel | 60* 25 | 2.2 KG |
| 4 | Pp 30 | flat panel | 60* 30 | 2.5 KG |
| 5 | Pp 35 | flat panel | 60* 35 | 3.0 KG |
| 6 | Pp 40 | flat panel | 60* 40 | 4.1 KG |
| 7 | Pp IN | in | 60* in | 2.0 KG |
| 8 | Pp OUT | out | 60* out | 2.6 KG |
| 9 | HDL | — | — | — |
Advantages and Disadvantages
Plastic formwork products
Advantages Plastic formwork products
Easy to demould. The concrete does not stick to the board surface, no release agent is required, and it is easy to demould and clean the dust.
It is light in weight and has strong process adaptability. It can be sawed, planed, drilled, nailed, and can be formed into any geometric shape at will to meet the needs of building formwork of various shapes.
The formwork is spliced tightly and flatly, and the surface degree and smoothness of the concrete structure after demoulding exceed the technical requirements of the existing clear water formwork, and there is no need for secondary plastering, saving labor and materials.
Disadvantages Plastic formwork products
The static bending strength and static bending elastic modulus of plastic building formwork are smaller than other formwork.
At present, the plastic building formwork is mainly used as the roof and floor formwork in the form of flat plate, and the bearing capacity is low. As long as the spacing of the secondary beams is properly controlled, the construction requirements can be met. But to be used as wall column formwork, it must be processed into steel frame plastic formwork.
The coefficient of thermal expansion and contraction of plastic sheets is larger than that of aluminum formwork, so plastic building formwork is greatly affected by temperature. For example, in the high temperature period in summer, the temperature difference between day and night can reach 40 °C. Up to 3mm ~ 4mm. To solve the problem of expansion, you can choose an average temperature time to lay the slabs during construction, or add sponge strips between the slabs, which can eliminate the gaps in the formwork, ensure that the pouring concrete does not leak, and can solve the problem of high temperature. Arching problem.