What is scaffolding system?
a temporary structure on the outside of a building, made usually of wooden planks and metal poles, used by workers while building, repairing, or cleaning the building.
Scaffolding is also known as staging, and as the name suggests, it is kind of a temporary stage or structure that aims to help people and materials move so that construction projects can be completed. It is highly important that scaffolds are strong and sturdy, because a weak scaffold can result in fatal injuries.
Cuplock Scaffolding System
This article is going to look into Cuplock scaffolding system, which is one of the most popular types of scaffolding systems.
The official name of this scaffolding system is Cuplok, but most people know it as Cuplock.
The cuplock scaffolding system is a widely used scaffolding system all over the world. Because of its unique locking mechanism, it is an easy to set up system that is fast and economical, therefore so popular. Cuplock scaffolding has been in popular use over the past three decades; it is a fully galvanized system that serves various purposes, and has been chosen by constructors and builders over and over again on some of the world's most complex projects.
The cuplock scaffolding system is a widely used scaffolding system all over the world. Because of its unique locking mechanism, it is an easy to set up system that is fast and economical, therefore so popular. Cuplock scaffolding has been in popular use over the past three decades
The Cuplock scaffolding system is a type of modular or systems scaffolding that consists mainly of pre-engineered horizontal and vertical components that combine in a systematic manner to present its users with a temporary structure that proves highly useful in construction projects of the modern world.
The advantages of using hammer scaffolding are as follows:
1- Ease and speed in opening and closing and not needing a wrench to close connections
As compared to traditional scaffolding systems, the Cuplock scaffolding system has proven itself to be the fastest of all. Because it is so easy and simple to set up, it saves a lot of time and money. This makes it a popular choice among builders and contractors who are always looking to minimize costs and save time. Compared to tube and fittings, Cuplock is known to have saved time by around 30 to 50%.
2- Can be expanded on the surface and in height without restrictions and no need for bracing at high altitudes
3 – Can be used in scaffolding facades of buildings
Cuplock is a flexible and adaptable scaffolding system that can be used to make a wide variety of structures which serve useful for construction, refurbishment or maintenance. These structures include facade scaffolds, birdcage structures, loading bays, curved structures, staircases, shoring structures, and mobile towers. Hop-up brackets let workers easily install work platforms at a half meter increment below or above the main deck that gives finishing trades – such as painting, flooring, plastering – flexible and easy access without disrupting the main scaffold.
4- Heavy load in the formwork of concrete slabs
5- There is no need for a skilled scaffolding worker and assembly of parts by a simple worker
6- Ease of transportation due to the lightness of the parts
Cuplock tube is comparatively lighter than regular tubes, and it is palletised, which makes it easy to transport, handle, and store. Cuplock system can be stored both on site or in the yard, and is least likely to get stolen or lost.
7 – Can be used in the framing of arched and non-level roofs.
Although the Cuplock scaffolding system is a heavy-duty system, it is surprisingly easy and simple to erect. It requires the least amount of wedge connectors and loose fittings. Standard horizontals are used as guardrails, transoms, and ledgers. The Cuplock scaffolding structure automatically aligns itself when the base lift is levelled. Cantilevers, staircases, and inside platforms can be easily created using components that are specially designed for the purpose.
Installation/Locking Procedure
The distinctive node-point locking device is at the core of the Cuplock scaffolding system. Four horizontal tubes can be safely attached to the standard or vertical tube, and locked firmly in place with a single blow of hammer. Fixed lower cups are welded at half a meter intervals to the standards. Sliding upper cups drop over the ledgers' blade ends and rotate to firmly lock them into place.
There are no loose clips, wedges, or bolts involved in this procedure. Cuplock's node-point is revolutionary, and makes it faster and easier than any other scaffolding system. Furthermore, the lack of loose components makes it a robust scaffolding system, and its galvanized surface makes it almost immune to damage and corrosion. Cuplock is a zero maintenance scaffolding system, that saves time, money and energy.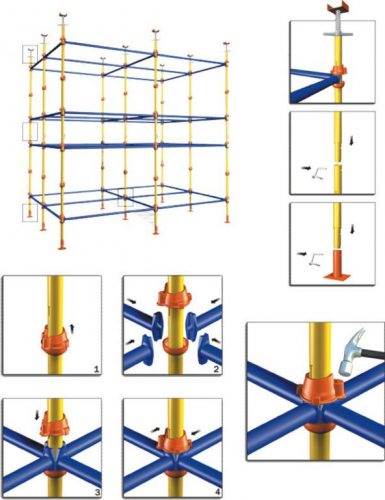 Components of Cuplok
These are vertical tubes that use lower fixed cups at half a meter intervals with rotating cups on the top. These can firmly hold together up to four components. Verticals come with and without spigots, adding to the flexibility of Cuplock scaffolding system. Verticals without spigots weigh lighter than the one with spigots. Standards are made of 40 mm NB tubes and can be used for access or support. Verticals are available in these sizes: 500 mm, 1000 mm, 1500 mm, 2000 mm, 2500 mm, and 3000 mm.
Cuplock horizontals include ledgers and transoms, are also made of 40 mm NB tubes, and are so robust that they require zero maintenance. Horizontal tubes have forged blade ends that allows simple and quick assembly. The blade ends of the horizontals fit into the cup of the vertical tube, ensuring a strong assembly. Normal horizontals can also serve as guard-railings in a staircase tower. Ledgers come in the following standard sizes, but they can also be customized according to your requirement: 500 mm, 1000 mm, 1250 mm, 1500 mm, 2000 mm, and 2500 mm.
Adjusting screw jack are highly durable and very efficient. The universal jack is used as an adjustment part, and can be inserted at the bottom or top of a scaffold support structure. They have an adjustment of up to half a meter, and accommodate differences in ground level, as well as to keep the structure leveled. Adjusting screw jack is used in conjunction with adapters, foreheads, and base plates. When fully supported, Adjusting screw jacks can take on the entire capacity of Cuplock scaffolding system.
برای امتیاز به این نوشته کلیک کنید!