types of system scaffold
System scaffolding, also known as modular scaffolding, consists of vertical and horizontal structural components, It is known as the system of standards for implementation, and pre-engineered joints and supports or transoms.
It often provides an advantage over other types of scaffolding because it's safer, has a greater load capacity, can accommodate complex design structures and taller vertical heights, and is easier to assemble and store.
Scaffolding Systems are rapidly growing within the industry due to productivity and labour saving benefits, which is why we offer a variety of the industry-leading modole such as Layher, triangle, Cuplok, Kwikstage and our own Uniscaff Stair Tower.
this original system has been undergoing continuous development and offers an impressive variety of use: on any construction site, in industry, chemical plants, power stations, shipyards and for events. As scaffolding for working, protection, façade work or support, as internal or birdcage scaffolding, or as rolling towers.
Popular types of system scaffolding include Ringlock scaffolding, Cuplock scaffolding, Kwikstage scaffolding .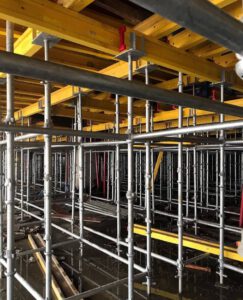 Whatsapp: https://wa.me/c/989121390683
Web : www.alborz-ghaleb.com
telegram  : +989121390683