The Role of Scaffolding in Construction Projects
Scaffolding systems play an indispensable role in the execution of construction projects by providing temporary structures to support access and working platforms. They allow workers to reach different heights safely and efficiently in order to perform tasks like fixing insulation, applying render and paintwork, installing cladding, and performing maintenance activities.
types of system scaffold
System scaffolding, also known as modular scaffolding, consists of vertical and horizontal structural components, It is known as the system of standards for implementation, and pre-engineered joints and supports or transoms.
It often provides an advantage over other types of scaffolding because it's safer, has a greater load capacity, can accommodate complex design structures and taller vertical heights, and is easier to assemble and store.
Scaffolding Systems are rapidly growing within the industry due to productivity and labour saving benefits, which is why we offer a variety of the industry-leading modole such as Layher, triangle, Cuplok, Kwikstage and our own Uniscaff Stair Tower.
this original system has been undergoing continuous development and offers an impressive variety of use: on any construction site, in industry, chemical plants, power stations, shipyards and for events. As scaffolding for working, protection, façade work or support, as internal or birdcage scaffolding, or as rolling towers.
Numerous types of scaffolds are used in construction depending on the nature of work.
The main types  scaffolds are:
tube and coupler scaffolds
These use prefabricated steel tubes that are connected together with specialized couplers. They are fast and easy to erect and dismantle since no drilling or welding is needed. They offer good flexibility and adjustability.
frame scaffolds
These are made from welded steel frames. They provide high strength and rigidity. Frame scaffolds are suitable for heavy duty use and large spans.
Popular types of system scaffolding include Ringlock scaffolding
Cuplock scaffolding
 is a type of tube and fitting scaffolding system that uses cup connectors to join the vertical and horizontal members.
uplock Scaffolding Systems by Alborz Ghaleb Complex

Cuplock scaffolding is a type of tube and fitting scaffold system designed for efficiency and safety in construction applications. Cuplock systems utilize steel tubes connected by angled cup connectors that grip the tubes firmly. The cup connectors allow for flexible adjustments of tube positions and heights while maintaining a rigid scaffold structure.

Alborz Ghaleb Complex, an Iranian scaffolding manufacturer, produces a comprehensive range of innovative cuplock scaffolding solutions. Their scaffold systems are designed to meet international safety standards as well as the requirements of specialized industrial and construction applications.


Key Features of Cuplock Scaffolding:

•Tight-fitting cup connectors that securely hold steel tubes of varying diameters

•Ability to adjust tube spacing and heights easily for fast configuration changes

•Fast assembly and disassembly times of up to 70% faster than traditional frame scaffolds

•Adaptability for a wide variety of construction and maintenance tasks at different heights

•Heavy-duty galvanized steel tubes and components for durability and corrosion resistance

•Compatibility with accessories like stairs, ladders, handrails and cladding for customized solutions

•Compliance with ISO, OSHA, and Iranian safety standards

The company's products include light, medium and heavy duty cuplock systems with load capacities ranging from 530 lbs/ft2 to over 860 lbs/ft2. Aftersales services like installation.
In conclusion, Alborz Ghaleb Complex's cuplock scaffolds offer an optimal balance of features to maximize benefits for contractors. The fast erection times help accelerate schedules while the flexibility, strength and adaptability deliver value over the lifespan of scaffolds. The company's focus on safety, quality and compliance also help mitigate risks for construction projects.
Kwikstage is a type of proprietary adjustable height scaffolding system.
Kwikstage scaffolding
• Kwikstage uses a modular design consisting of prefabricated steel components that easily slot together. The main parts are vertical tubes, horizontal rails and fittings.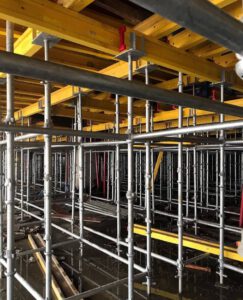 Whatsapp: https://wa.me/c/989121390683
Web : www.alborz-ghaleb.com
telegram  : +989121390683